Search NCIBI Data
(e.g. diabetes, csf1r)
Login

HighLights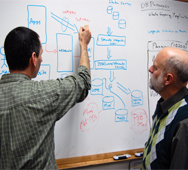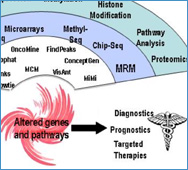 NCIBI StRucture
NCIBI is composed of seven tightly integrated cores. Interactions among cores are extensive and take the form of shared personnel and computational infrastructure, a multitude of collaborative research projects, and joint participation in training programs in Bioinformatics, Computer Science, Information Science, School of Education, Health Sciences Library, Biostatistics, Genetics, Psychiatry, Diabetes, and Cancer Biology.
To view investigators and staff listing visit: http://portal.ncibi.org/gateway/people.html.


Core 1: Computer and Information Science (CIS)
Director: H.V. Jagadish, Ph.D.
The Computer and Information Science core seeks to advance biomedical computing capabilities for flexibility, scalability, extended lifetime, and navigability through highly complex data and information from literature. Currently, this team is developing a computing architecture that permits the harnessing of diverse data sources and algorithms into a single cohesive framework for problem solving by biomedical scientists. Other projects include user interaction architecture, user interfaces, querying mechanisms, data analysis algorithms, and techniques to deeply integrate data from multiple sources.
Core 1 Personnel Listing [+]
Core 2: Bioinformatics and Knowledge Acquisition
Director: H.V. Jagadish, Ph.D.
The Bioinformatics and Knowledge Acquisition team is building an integrated information store for molecular biology and software tools for applications that include information retrieval, bioinformatics analysis, model construction, and model testing. Application of algorithms developed in Core 2 and creation of an Integrated Knowledge Base is part of the core mission.
Core 2 Personnel Listing [+]
Core 3: Driving Biological Projects (DBPs)
Director: Gilbert S. Omenn, M.D., Ph.D.
Researchers engaged in Driving Biological Projects core are focusing on three biological problems from complex diseases: Gene Fusions in Cancer, Complications in Diabetes, and Bipolar Disorder and associated Co-morbidities.
Core 3 Personnel Listing [+]
Gilbert S. Omenn, M.D., Ph.D.
Yongsheng Bai
Maureen Sartor

Gene Fusion in Cancer
Arul M. Chinnaiyan, M.D., Ph.D.
Leroy Hood, M.D., Ph.D.
Arun Sreekumar
Xiaosong Wang

Major Organ-Specific Complications of Diabetes
Matthias Kretzler, Ph.D.
Celine Berthier
Charles Burant, Ph.D.
Felix Eichinger
Eva Feldman
Alla Karnovsky
Viji Nair
Kelli Sullivan

Co-Morbid Disease Associations of Bipolar Disorder
Melvin McInnis, M.D.
Richard McEachin, Ph.D.
Core 4: Infrastructure
This core provides the computational infrastructure for the Center, including hardware management, user authentication, and network communications.
Core 4 Personnel Listing [+]
LihShwu Ke
Jerome Kinlaw
Kurt Seyfried
Core 5: Education
Directors: Brian D. Athey, Ph.D. and Barbara Mirel D.Arts
The Education core is responsible for launching innovative educational and training programs. Milestone achievements to date include a new Certificate in Integrative Biomedical Informatics program that will leverage the Center's integrated information and computational resources.
Core 5 Personnel Listing [+]
Core 6: Outreach and Dissemination
Director: Brian D. Athey, Ph.D.
The Outreach and Dissemination core is working to develop problem solving techniques in the collaborative study of complex biological systems. The team is also building collaboratory web portal knowledge environments and disseminating software technology and data generated by NCIBI.
Core 6 Personnel Listing [+]
Core 7: Administration
Director: Brian D. Athey, Ph.D.

The Administration core is comprised of an NIH External Advisory Committee; sub-committees focused on Software Dissemination, IP, Data Sharing, and IRB Compliance; and an NCIBI Executive Committee, which is responsible for overseeing active Driving Biological Projects and reviewing applications for new DBPs.
Core 7 Personnel Listing [+]